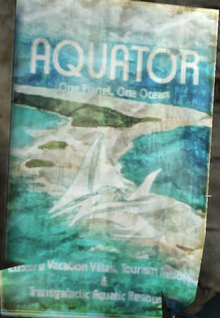 Aquator is a planet comprised mostly of water, with islands scattered across its surface. It is considered the prime resort of its region of space. Other than tourism, its primary industry is exporting water to other planets.
Aquator was the homeworld of Saul Henderson.
Aquator is mentioned in Borderlands.
Ad blocker interference detected!
Wikia is a free-to-use site that makes money from advertising. We have a modified experience for viewers using ad blockers

Wikia is not accessible if you've made further modifications. Remove the custom ad blocker rule(s) and the page will load as expected.