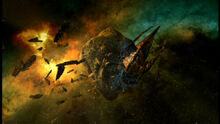 Commerce settlements were places across the Milky Way where people had gathered to barter, trade, and vend goods and services. Unlike commerce planets, commerce settlements were not built on planets -- or, if they were they occupied only a small portion of the planet. Many were built on asteroids and at least one was built on the carcass of a Leviathan biomechanoid in Tormented Space (although this dead Leviathan was partially embedded in an asteroid).
A variety of goods and services could be purchased at commerce settlements, including sensor distorters, massages, and genetic modification. They were renown places to conduct illicit or illegal business.
A commerce settlement is seen in Farscape.
Ad blocker interference detected!
Wikia is a free-to-use site that makes money from advertising. We have a modified experience for viewers using ad blockers

Wikia is not accessible if you've made further modifications. Remove the custom ad blocker rule(s) and the page will load as expected.