You may be looking for Fento the Mintakan.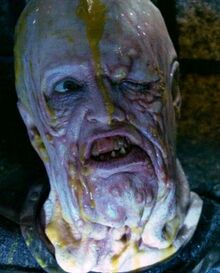 Fento was a Plokavian judge who, alongside Gahv, tried several members of the crew of Moya for the destruction of a Plokavian freighter -- an action that was, truthfully, Talyn's doing. Fento believed that each member of the crew was lying, as their stories differed from each other.
When Fento sentenced all of those on trial to death, Stark confessed -- despite being innocent. Fento dispersed Stark's molecules and agreed to release the others.
Fento is a character from Farscape.
Ad blocker interference detected!
Wikia is a free-to-use site that makes money from advertising. We have a modified experience for viewers using ad blockers

Wikia is not accessible if you've made further modifications. Remove the custom ad blocker rule(s) and the page will load as expected.