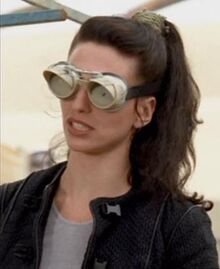 "Sundance" was an alias given to Aeryn Sun by John Crichton, who was himself posing as Butch Crichton, while the two were on Dam-Ba-Da. They posed as bounty hunters in order to keep Rorf and Rorg, the Vorcarian Blood Trackers, from realizing that they were actually wanted fugitives.
The names Crichton had chosen were references to Butch Cassidy and the Sundance Kid.
"Sundance" appears in Farscape.
Ad blocker interference detected!
Wikia is a free-to-use site that makes money from advertising. We have a modified experience for viewers using ad blockers

Wikia is not accessible if you've made further modifications. Remove the custom ad blocker rule(s) and the page will load as expected.